FAST
---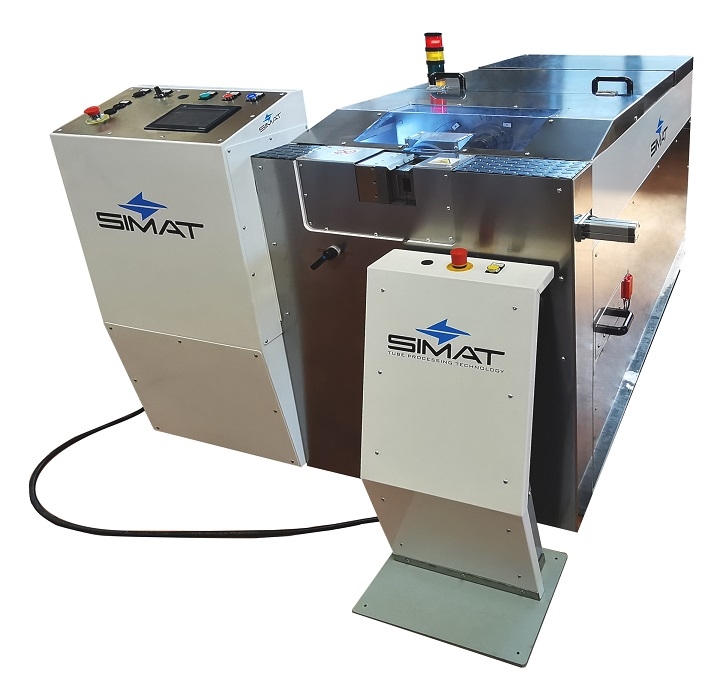 THE FASTEST ON THE MARKET
UP TO 12 TONS OF THRUST POWER
CONFIGURABLE FEATURES
ENDFORMING, MILLING, CUTTING
---
The Fastest
FAST is currently the fastest tube forming machine in the field of tube processing. It can perform a complete endforming process with 7 thrust processing stations in just 4.5 seconds, this means an average time of 0.6 seconds per station. The high speed of FAST makes it the perfect machine for any working configuration required, whether it is used in manual mode with an operator loading the machine or it is installed in a robotic work cell. As the high productivity of FAST, even when used with an operator, is basically the double when compared to this one of a traditional endforming machine, there is no need to work with two traditional machines, since the production capacity remains the same thus saving in this way: space in your workshop, cost of a second endforming machine and labour cost for an additional operator. In an automated workcell endforming process often represents the most time-demanding process, being therefore a bottleneck that slows down the overall cycle. By employing FAST in the tube endforming process you can remove this inconvenience and improve the performance of the whole workcell.
Smart and compact
Furthermore FAST is a machine with a really compact size (120x200 H 130 cm) that can be easily installed in any work place. Thanks to the position of the clamp itself and to the smart outline of the machine, which is specifically designed to minimize its overall dimensions, even complex shapes can be manufactured.
Quickness and low consumption
The punches are mounted on a rotary table and are individually and electrically adjustable for a really minimum set-up time when changing from one product part to the other. All functions and stored programs are controlled by a touchscreen, which allows rapid machine operation. Thanks to the internal kinematics of FAST, energy consumption is reduced by 40% when compared with traditional machines, as far as same speed and force are developed.
The industry of tomorrow
In addition FAST disposes both of data communication and our standard interface for data exchange with external devices, making it suitable for meeting the requirements of Industry 4.0.
Product features
---
Thrust force: up to 12 tons endforming power
Maximum punch stroke: 80 mm.
Workable diameters: up to 52 mm.
Workable materials: copper, aluminum, iron and stainless steel.
Many different processing stations are possibile: thrust power endforming, rotating and cutting tools according to customer's needs
Features include up to 8 steps
Optional rotating tools
Optional orbital cutting unit
Electric and controlled endforming feeding. Compared to a hydraulic-type feed, the electric axis allows the strokes to be set directly from touchscreen with high precision, reducing setup time.
Punch advancement speed is settable from touch-screen.
Rotating tool-holder table with controlled electric movement.
Gravity flow lubrication or microlubrication system
Pneumatic manual pre-closing of the clamp.
Clamp force for holding the workpiece: 14 tons
Double clamp for O-ring seat execution (optional).
---